All through July and August. The Write Focus podcast presents BRANDING for a book, a series, and a writer's business.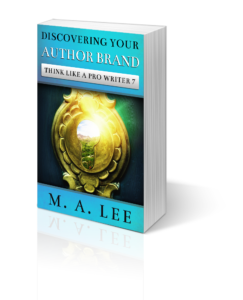 To hook readers, savvy writers manipulate cover imagery, titles, and the back cover market copy. With the right keys, presented in this series, writers will learn how to generate a brand for a book and a series. This knowledge will translate to their own writing business.
The series is based on M.A. Lee's guidebook Discovering Your Author Brand, part of the Discovering series.
July 5 History and Keys
July 12 First Impressions Matters with Glance I and Keys One and Two
July 19 Clever Iconography and Keys Three and Four
July 26 More on Iconography and Keys Five and Six
August 2 Clever Titling
August 9 Market Copy: Taglines and Blurbs
August 16 Branding, Curious Readers, and a Blurb Script
August 23 Books Trailers and Video Clips
August 30 Key Fundamentals for Trailers
Thanks for listening to the Podcast. (Links below)
Support the podcast with a cup of coffee at https://www.buymeacoffee.com/winkbooksr
You can find workbooks and templates at Buy Me a Coffee. Just up is the Enter the Writing Business Workbook and templates from the Discovering Characters Coming soon are worksheet templates and a video trailer script for Discovering Your Author Brand.
For more links and resources, visit www.thewritefocus.blogspot.com  .
Write to us at winkbooks@aol.com.
If you find value in this podcast, please share with your writing friends or write a review. (We're small beans. We don't have the advertising budget of the big peeps. You can make a difference.)
Listen on your favorite podcast site: from Apple to YouTube, Spotify and Podbean (my favs), Google Play, Amazon Music and Audible, Samsung and Player FM, Deezer and Podcaster, the rivals iHeart and Tune-in, and too many to list.
Here are the 4 easiest. Make us a favorite, and follow along easy-peasy, once a week, while you fix a quick dinner, drive a short commute, or take a brisk walk.
My favorite podcast is Podbean. Here's a direct link to the first episode in the series on that service. https://eden5695.podbean.com/e/428-branding-the-key-for-writers-to-reach-readers/?token=0df527c4f966d5a924de4f2dc2d7425a 
YouTube direct link to the Branding Playlist https://youtube.com/playlist?list=PLXi3M_aM-d7L4OtDk2Bde7LDwQ2l7K8NE
Apple https://podcasts.apple.com/us/podcast/the-write-focus/id1546738740%20
Spotify https://open.spotify.com/show/4fMwknmfJhkJxQvaaLQ3Gm?si=ffeb71ed17c3409d