It's the anniversary of the bundled Discovering Your Writing", the epic journey for writers.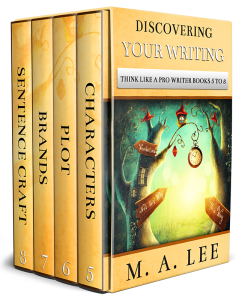 Designed for writers at any skill level, this four-book bundle of the acclaimed series is a resource-rich compendium of craft information.
4 Books
for Writers
Bundled together
Discovering Your Plot covers six types of plot structure and the necessities of genre expectations. In its detailed examination of the major sections of a novel, it offers clues to pacing, tension and suspense, and sequencing of events.
Discovering Characters guides writers to create individuals rather than cookie-cutter stereotypes. This guidebook is designed to reveal the public and private interiors of characters. Templates and interviews are merely a start when delving into the backstories and relationships of our characters.
To hook readers, savvy writers manipulate cover imagery, titles, and the back-cover market copy. With the right keys, explored in Discovering Your Author Brand, learn how to brand your books, your series, and yourself as writer. A supplementary section covers writing a book trailer—the best guidance for writing any market copy.
Improving your writing craft is simple with the lessons and examples provided in Discovering Sentence Craft. A writer needs much more than grammar and spelling. Figurative and interpretive elements are the first step in creating rich text. Structural elements like opposition, repetition, inversion, and sequencing offer additional methods to polish your words.
At 129,00-plus words, Discovering Your Writing is truly an epic undertaking, a heroic journey necessary for anyone wanting to grow as a writer.
Writer M.A. Lee worked as a journalist and copy writer before pursuing the challenge of teaching high school students the triumvirate of literature, composition, and grammar+. Those years of teaching meant that she continued learning herself, sticking fingers into the writing craft and twisting things around to understand them before conveying that knowledge to students. The Discovering guidebooks for writers are proof that her internal teacher keeps presenting lessons.
Since beginning her self-publishing journey in 2015, M.A. Lee (under her pen names) has published more than 30 works of fiction and nonfiction.