Writers Ink ~ Guidebooks for Writers
W.Ink has writers' guidebooks. No matter where you are in your epic journey as a writer, total newbie or jaded veteran, W.Ink can help you overcome the distractions and disruptions that interfere with success.
Our writing craft guidebooks, under the Think like a Pro Writer series, cover daily habits and methods. We have information on characters & plot and business information on branding & marketing. For writers looking for craft development at the building block level, we have a guidebook focused on words and sentences.
We even have a daily planner for writers seeking constant motivation.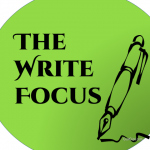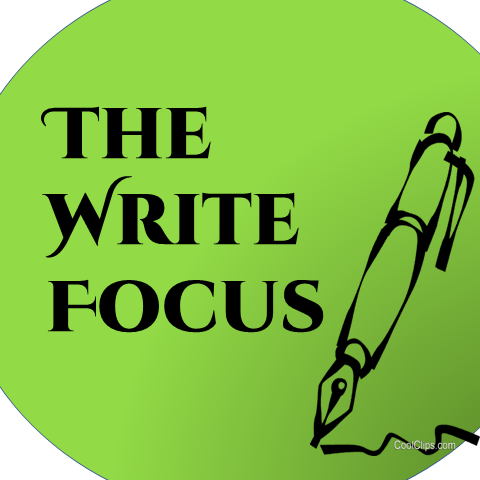 Use the contact form at the bottom of this page to email us. Thank you!
Use the Blog page Learn! to follow The Write Focus or visit thewritefocus.blogspot.com at this link.
2020 Releases ~ Inspiration 4 Writers
First up are writers' guidebooks with encouragement to avoid distractions and disruptions.
Each W.Ink writer contributed a blog series which turned into a guidebook. These give writers of all levels the motivation needed to finish those manuscripts. Don't stop there: aim for publication, whether self-publishing or traditional publishing.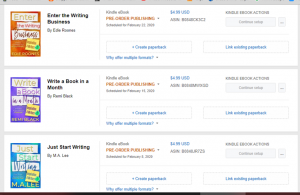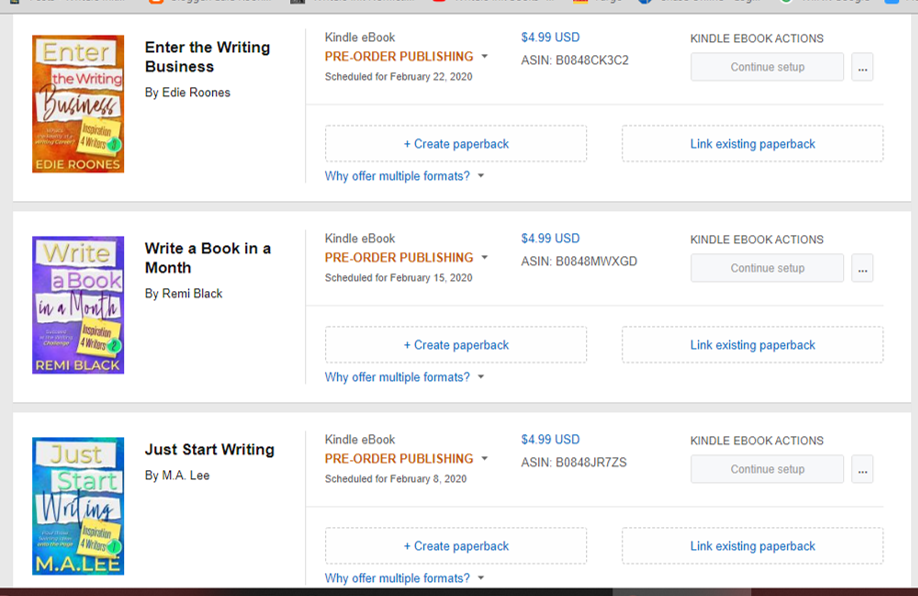 1 ~ Just Start Writing / M.A. Lee
Pour those swirling ideas onto the page. This link opens to M.A. Lee's blogger site for more information.
The e-book is Available here.
2 ~ Write a Book in a Month / Remi Black
This link opens to Remi Black's blogger site for more information about this writing challenge. Obstacles and oppositions can be overcome. The e-book is Available here.
3 ~ Enter the Writing Business / Edie Roones
Follow this link for more information about the business of writing, from daily process to daily work space, from time management to efficient habits, and the objectives, strategies and plans necessary to grow a successful small business. The e-book is Available here.
All 3 Bundled
The bundle Inspiration 4 Writers is available as an ebook or an 8 x 10 paperback version, over 200 pages of motivation and advice to help writers at any stage of their epic writing journey. Click the appropriate link for a real bargain.
The set contains all three books in the series ~
Just Start Writing :: strategies for approaching any story
Write a Book in a Month :: Every writer's dream and fear
Enter the Writing Business. Strategies :: daily methods, hard and soft skills, and a Writer's Business Plan
Think / Pro
Think like a Pro Writer is a series of writers' guidebooks that cover all the method and craft skills needed to succeed. From the daily discipline of writing to the craft skills of characters and plot and on to the business of writing skills for author brands and paying taxes, we have a wealth of information with clear explanations for writers at any level of their career, entry to pro.
Think like a Pro (book 1) ~ 7 lessons that will guide your change from hobby writer to pro writer. The guidebook begins with the #1 lesson for success to your daily mantra. Following are the basics for plot and characters. Two tricky problems need the solutions in conquering Writer's Block and sparking Creativity. Finally, healthy habits will improve your projects, your self and the money you earn.
Available in paperback or electronic forms. Choose either the guiding lamp cover or the floral one by clicking the appropriate link. Find more information about the contents of the 7 lessons at this link.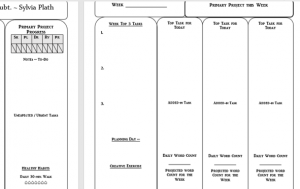 This image is from the interior of the planner.
The two-page weekly spread offers places to record current projects and daily word counts.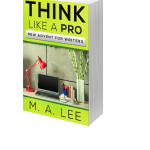 You can also track your healthy habits that will keep you mentally and physically capable.
Monthly reviews and previews are incentives to remain devoted to your writing goals while seasonal reviews/previews offer opportunities to re-focus.
The Yearly Review/Preview sets guidelines for continued success.
The planner is Book 2 in the Think like a Pro Writer series.
Book 3 in the
Think like a Pro Writer

series is Old Geeky Greeks: Write Stories using Ancient Techniques.

No series of writers' guidebooks would be complete without a historical look at the foundations of the craft of storytelling.

The first storytellers developed the tales and legends that we now classify as myths. Their techniques–developed around campfires, refined in marketplaces, and polished into dramas and poetry and epics–are still used today. Great writers like Jane Austen and J.K. Rowling as well as the film production studios create "new" stories, but these are built upon the successful stories of prehistory.

The great minds of classical antiquity solved the sticky problem of audience expectations, the question every modern writer asks. Old Geeky Greeks examines the methods and devices and techniques and offers multiple answers to that single question.

A seminar in 28,000 words, Old Geeky Greeks offers insights into these time-proven techniques. Find the book at this link.
The Discovering Set of Guidebooks for Writers
Continuing the Think like a Pro Writer series for new writers and veterans searching for refreshers ~ Books 4 to 8. All titles are available as ebooks.
Currently, only Discovering Your Novel is available as a separate paperback; the other four books comprise Discovering Your Writing, the 350-page epic journey to improving your craft, 129,000 words, start to finish.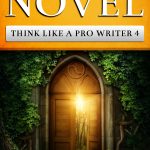 Book 4: Discovering Your Novel includes the following sections ~ Foundations, Visioning, Analysis, Big Push parts 1 and 2 (the intensive writing phase), Harvest, and Finishing.
DiscNovel is designed to guide writers from original idea to published work, working only a couple of hours per week, through the course of a single year. This link offers Basic Info.The paperback is sized 8 x 10, like a manual, and is over 150 pages in length.
Find pdf charts at this link.
Characters and Plots
Book 5: Discovering Characters~ Five areas comprise this guidebook. Just as characters—and houses—are individual, this info is individual. You won't need every bit. Dip in and out, skim around. When you reach locked rooms, come back and explore to discover the keys to your characters.
Starting Points ~ offering templates and character interviews
Classifications ~ common and uncommon ways of discovering characters
Relationships ~ couples, teams, allies, enemies, mentors, etc.
Special Touches ~ progressions, transgressions, and transitions for character arcs
Significant Lists ~ archetypal characters and much more
At this link, find the Basic Info. Free Character Template Charts are at this link.
Book 6: Discovering Your Plot ~ Available here ~ covers plot structure and the necessities of
genre expectations so we writers can anticipate what readers want. This guidebook explores the six most common plot structures. In DiscPlot writers will find a detailed examination of the major sections of a novel.
Marketing Your Book, Your Series, and Yourself
Book 7 ~ How do writers learn to market themselves and their books? In analyzing that question, M.A. Lee developed Discovering Your Author Brand.
Writers have only three glances and a few keys to hook readers. DiscAuthorBrand offers worksheets and the newly revived video trailers that are not found anywhere else.
Find some Basic Info about DiscAuthorBrand through a trailer.
Polishing at the Basic Word Level
Book 8 ~ Need help at the sentence level? Want to add touches of polish to your written words? Do you write poetry and want to explore more than rhyme? Discovering Sentence Craft explores and explains metaphors, symbols, allusions, irony, alliteration, and much more. This guidebook covers the following areas:
1] figurative language :: much more similes and metaphors.
2] interpretive concepts :: symbols, archetypes, imagery and more.
3] inverted structures :: avoid sounding like a gimmick by applying techniques from Emily Dickinson and other great writers
4] repetitive structures :: much more than simply repeating, especially when anaphoras and epistrophes come into action.
5] opposing structures :: antithesis, paradox, and irony plus several more
6] sequences :: working with progressions and discovering devices from Auxesis to Zeugma.
Basic Infocan be found at this link.
Discovering Your Writing Bundles Plot / Characters / Branding / Sentence Craft
Start your epic writing journey with 4 bundled books that present — and explain! — the nuts and bolts of craft.
Discovering Your Plot covers six types of plot structure and the necessities of genre expectations. In its detailed examination of the major sections of a novel, it offers clues to pacing, tension and suspense, and sequencing of events.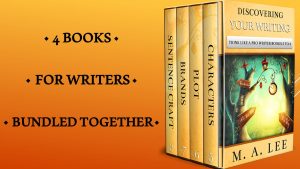 Discovering Characters guides writers to create individuals rather than cookie-cutter stereotypes. This guidebook is designed to reveal the public and private interiors of characters. Templates and interviews are merely a start when delving into the backstories and relationships of our characters.
To hook readers, savvy writers manipulate cover imagery, titles, and the back-cover market copy. With the right keys, explored in Discovering Your Author Brand, learn how to brand your books, your series, and yourself as writer. A supplementary section covers writing a book trailer—the best guidance for writing any market copy.
Improving your writing craft is simple with the lessons and examples provided in Discovering Sentence Craft. A writer needs much more than grammar and spelling. Figurative and interpretive elements are the first step in creating rich text. Structural elements like opposition, repetition, inversion, and sequencing offer additional methods to polish your words.
At 129,00-plus words, Discovering Your Writing is truly an epic undertaking, a heroic journey necessary for anyone wanting to grow as a writer.
Purchase at this link: https://www.amazon.com/dp/B08691892S
Catch the Teaser here: