Why do Writers Need Planners?
I'm not just promoting 3 Planners here. I have a reason for creating each one.
The #1 guarantee of continual writing success is tracking your progress, with all the successes recorded. We writers have a tendency to focus on our current problems and set-backs.
While every publication is a major success, the daily grind often has us thinking we're back-pedaling rather than advancing. Tracking our minor successes and checking off our benchmark goals provides us with the incentives we need to keep working.

The Basic Planner: a Word-Count Focus
What helps writers achieve those two goals? For speed, we need to concentrate our mental energies on writing daily. For the long haul, we need to know our projects, current and next and future. When we focus on speed and longevity, we write more than we ever have before.
Word Trekker accomplishes these goals by advance planning for our projects and tracking our words daily, monthly, quarterly, and yearly.
Any hikers out there? This planner is for you. Match those words to the step-count for the Triple Crown of Hiking.
Pacific Crest Trial > 2,650 miles
Continental Divide Trail > 3,100 miles
Appalachian Trial > 2,193
AT international extension into Canada 1,319 >> 2, 193 with 1,319 = 3,512
One hiking mile = 100 words. As hikers venture along each trail, they trek from state to state. Setting the Triple Crown of Hiking as a writing goal keeps us going through the year.
Much less than $1 a month, this 6 x 9 planner helps you work toward One Million Words in a Year. Click the link to discover more.

Think in Projects Rather than Words?
Plan those writing goals. Nest the projects; hatch as you achieve them. Celebrate victories; analyze challenges. Soar with Success with the Writing Nest.
Long-term goals are easy to set. Breaking the long-term goals into short-term goals helps us slog through the slow times. Those slow slogs can lead us to think we're not achieving, yet a simple record will keep us motivated to continue on.
Where can we keep that record of achievements, short-term and long-term? A daily system that builds to mid-term benchmarks and seasonal achievements. That system should help us not only record our achievements but also set our long-term and short-term goals.
Sized 8 x 10, this undated planner (priced for $1 a month) lets us start anytime, taking breaks between projects or powering through the year. Click for more info.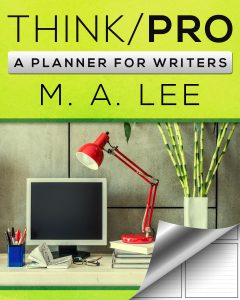 The Planner for Newbies
Want to make writing a commitment rather than a hobby? Striving for professional publication rather than wannabe status? The Think/Pro planner helps make the conversion from newbie to writing pro.
$1 a month, this undated planner tracks word counts and healthy habits, offers creativity tips and tax tips, offers progress meters for projects and a weekly inspirational quote from a major writer.
In addition to the weekly spread with a Top 3 Task List are Monthly Reviews & Previews and Seasonal & Yearly Planning pages.
The Monthly Review has a Productivity Tracker and a Progress Meter as well as places to jot down Business Contacts and Expenses. Seasonal Previews ask you to polish the nuts and bolts of your projected words per week and sharpen up the time remaining before your deadline.  At the end of every month, the planner offers a record for victories as well as upcoming challenges.
Time to change "Seize the Day" into "Seize the Dream."  For success, we need to Think/Pro.  This 8 x 10 planner will help.