Discovering Sentence Craft is celebrating its birthday!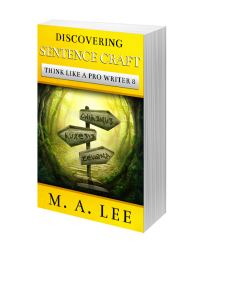 In the forests of words that we writers grow, blazed trails mark the way to our destination. Without those trails, without paths leading down to sun-sparkled streams, without the yellow brushstroke painted on tree after tree, we might lose our direction and our sanity.
Reading through that opening paragraph, most writers will recognize the extended hiking metaphor. Many will spot inversion and alliteration. A few will appreciate the anaphora and auxesis and zeugma, even when not familiar with those terms.
This is Sentence Craft. Controlled use creates appreciative readers. Over-blown use drives readers away.
Sentence Craft—from easy imagery to involved structures—is essential for the poet.
Bloggers and other nonfiction writers will find it a marketing tool, distinguishing them from their competition.
Speech writers and great broadcast journalists use these devices to make their spoken words become memorable.
With fiction, writers paint expositions and settings and character tags, capturing readers who may not even recognize the sweeping stroke of the magical wand.
Discovering Sentence Craft is for writers new and old. For newbies, word-tricks can be fascinating ventures into an unknown forest. These tricks can renew a veteran writer's love of words and sentences flowing onto the page.
In small offerings, of course. Too many tricks glaze our readers' eyes.
Discovering Sentence Craft covers figurative and interpretive concepts as well as the structural elements that build meaning, emphasis, and memory.
Concepts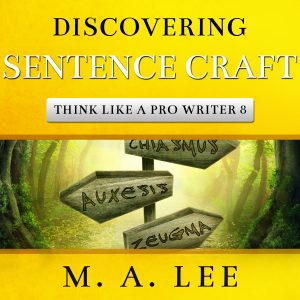 I: Figurative
II: Interpretive
Structures
III: Inversion
IV: Repetition
V: Opposition
VI: Sequencing
Writer M.A. Lee believes writing is a skill-based craft which can be learned and practiced. Artists learn composition, perspective, depth, proportion, and shading. A baseball player learns in-field and out-field, pitching vs. throwing, batting and bunting. An electrician learns reading blueprints, voltage and current, circuits, outlets, and panels.
A writer needs much more than grammar and spelling. Reading widely, Discovering Sentence Craft concepts and structures, and practicing them will open doors for anyone who wants to improve.