November is the Fall Writing Challenge

… and The Write Focus has got every

writer's back.
November is writing only, 50,000 words in one month.
Fall on The Write Focus podcast is a series entitled "Enter the Writing Business" Check it out on the TWF website: Click here to go the current posts.
New Publications!
1st and 2nd are TWO Planners for Serious Writers. Visit the links for views of the interior of both planners.
Writing Nest: A Project Planner for Writers

Plan those writing goals.
Nest the projects; hatch as you achieve them.
Celebrate victories; analyze challenges.
Soar with Success with the Writing Nest.
Word Trekker: A Writer's Word Count Planner
Write more than ever before.
Plan Projects. Plan Weekly Tasks.
Track Words. Track Progress.
Use the Triple Crown of Hiking as Motivation.
3rd is this ebook / paperback AND coming soon, the audiobook.
A Messy Miscellany For Writers 
A Messy Miscellany for Writers crowds in information about craft and process,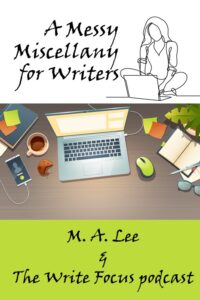 productivity and tools, writing crimes to avoid, the how-can's and why-should's of writing guidance, and much more.
Offered by M.A. Lee and The Write Focus podcast.
https://books2read.com/u/38ezzB
https://www.amazon.com/dp/B0B6Y5GWG2