Poetry: Major Methods Every Poet Should Know
Blank Verse:  Old Masters and New
Remember, we're examining the poems using MMO:  Means, Methods, Opportunity (Aristotle's Kairos). This time we won't have three different forms to analyze. Blank Verse only has one form.
Old Master 1:  William Shakespeare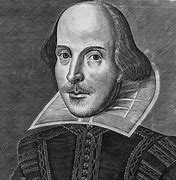 Macbeth's Famous Speech
Tomorrow and tomorrow and tomorrow
Creeps in this petty pace from day to day
Till the last syllable of recorded time,
And all our yesterdays have lighted fools
The way to dusty death. Out, out, brief candle.
Life's but a walking shadow, a poor player
That struts and frets his hour upon the stage
And then is heard no more. It is a tale
Told by an idiot, full of sound and fury,
Signifying nothing.
Patrick Stewart delivers the best version of this speech in a modern adaptation of the play.
Some prefer Michael Fassbender, but I think that one drags too much (Fassbender taking direction from the word "creeps", just as the whole 2015 film does) while Ian McKellan seems too insouciant. McKellan's analysis is spot on.
Means: 4 sentences, each expressing the futility of life. Remember, this is Macbeth talking, not Shakespeare. Never consider a character's words as the writer's personal philosophy.
Method:  alternating lines of 10 and 11 syllables, with the next to last hitting 12 syllables and the last line hitting 6. Not for nothing is Shakespeare called genius. In the world of symbols,
10 represents completion (the completion of Macbeth's life is drawing close).
11 represents transition (and the greatest transition is death, doubled here as Lady Macbeth to whom he speaks is dead and his own death is rapidly approaching).
12 equals man's relationship with God (and Macbeth will soon be judged for his crimes).
6 represents doubled mystery (and the greatest mystery is Death, again for Lady M and himself).
Opportunity:  Shakespeare is reminding the audience that everything we do in life will have consequences far reaching into our deaths. Time may seem to pass slowly … until our own death approaches. We may never understand our lives; they may seem no more than a shadow or an idiot's tale with no meaning ~~ but we must still answer for the sins we commit.
Old Master 2: William Cowper
Cowper brought about a revival of Blank Verse in the late 1700s, just in time for the English Romantics BLAKE, Wordsworth and Coleridge, Shelley and Byron.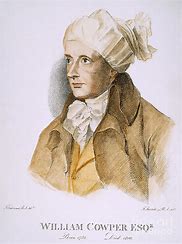 A few lines from "Winter Morning Walk", Book V of The Task:
`Tis liberty alone that gives the flow'r
Of fleeting life its lustre and perfume,
And we are weeds without it. All constraint,
Except what wisdom lays on evil men,
Is evil; hurts the faculties, impedes
Their progress in the road of science; blinds
The eyesight of discov'ry, and begets,
In those that suffer it, a sordid mind
Bestial, a meagre intellect, unfit
To be the tenant of man's noble form.
Means: You can hear the intellectual conversation the poet is having in the rhythm of his words. While Cowper is writing strict Blank Verse (count the syllables, every line is 10), he avoids the rocking-chair beat. In this section we hear the conversations of the coffee salons of the 1700s, when people discussed the role of man in society and the ills of society in harming man's soul.
Method: pure Blank Verse, unrhymed which allows the conversational tone. Only one line appears to have more than 10 syllables, but if we pronounce "bestial" as "beast-al", we achieve 10.
Opportunity:  Look at Cowper's theme:  Liberty/Freedom gives life its beauty. Only those restrictions which prevent evil should be allowed (as in "no murder"). Cowper believes restrictions hurt us and hurt progress while those who impose those restrictions are narrow and base.
That's an interesting juxtaposition to Macbeth's Famous Speech, isn't it?
New Master 1: Robert Frost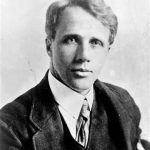 From "Birches"
But I was going to say when Truth broke in
With all her matter-of-fact about the ice-storm
I should prefer to have some boy bend them
As he went out and in to fetch the cows—
Some boy too far from town to learn baseball,
Whose only play was what he found himself,
Summer or winter, and could play alone.
One by one he subdued his father's trees
By riding them down over and over again
Until he took the stiffness out of them,
And not one but hung limp, not one was left
For him to conquer. He learned all there was
To learn about not launching out too soon
And so not carrying the tree away
Clear to the ground. He always kept his poise
To the top branches, climbing carefully
With the same pains you use to fill a cup
Up to the brim, and even above the brim.
Then he flung outward, feet first, with a swish,
Kicking his way down through the air to the ground.
So was I once myself a swinger of birches.
And so I dream of going back to be.
Means: "Birches" is a long poem, 60 lines, another one of those poems that high school students hate and adults remember with sadness. This section is the poet addressing his audience:  Remember when you were a child and had fun ~ until Truth broke into your life. In this, Frost is like Cowper:  restrictions restrict us. Where's our freedom, the freedom we had in childhood, the freedom we have lost and dream of regaining?
Method:  Primarily 10 syllables per line, with others that reach 11 and 12. Curiously enough, the two lines about Truth are 11 and 12 syllables; check back up to Macbeth for the meanings of those numbers. See a sly point by Frost?
Opportunity:  It's an ice storm that bends the trees down, Truth reminds the speaker, but he would rather it were a boy at play. And while Frost describes the childhood event, he zings us with two truths:  "He learned all there was / To learn about not launching out too soon" and "So was I once myself a swinger of birches / And so I dream of going back to be".
New Master 2: Wallace Stevens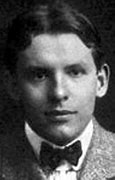 The Plain Sense of Things
After the leaves have fallen, we return
To a plain sense of things. It is as if
We had come to an end of the imagination,
Inanimate in an inert savoir.
It is difficult even to choose the adjective
For this blank cold, this sadness without cause.
The great structure has become a minor house.
No turban walks across the lessened floors.
The greenhouse never so badly needed paint.
The chimney is fifty years old and slants to one side.
A fantastic effort has failed, a repetition
In a repetitiousness of men and flies.
Yet the absence of the imagination had
Itself to be imagined. The great pond,
The plain sense of it, without reflections, leaves,
Mud, water like dirty glass, expressing silence
Of a sort, silence of a rat come out to see,
The great pond and its waste of the lilies, all this
Had to be imagined as an inevitable knowledge,
Required, as a necessity requires.
Means: 5 stanzas, each presenting an idea: literal, vacuum, need, silence, potential ~ the great flashiness set aside for a time, we have a chance to think and peruse and rebuild, focused on the essentials rather than the amendments.
Method: This is a loose Blank Verse, meaning that most but not all of the lines are 10 syllables. "Plain Sense" is not conversational, not philosophical. It is introspection, one of the few times we can point to master poetry and say, "This is what the poet is thinking."
Opportunity: "Plain Sense" was published in 1954, a year before the poet's death. Is he discussing the loss of his imagination, his creativity with poetry? Is he discussing the drained feeling of every person who has poured every bit of self into a project and sits back after its completion with a sense of emptiness rather than success? "After the leaves have fallen", after the work is finished, what do we have? Is Stevens capturing that moment before the next project seeds itself?
The Irony of Blank Verse
Most writers launching into poetry as a career will avoid the Blank Verse and Pure Verse methods of expressing themselves. They seek the freedom of Free Verse without realizing that Free Verse is actually bounded by more rules of structure than Blank and Pure Verses are.
Robert Frost shares with Henry Wadsworth Longfellow and Edna St. Vincent Millay a great benefit that is also a detriment: all three poets make writing poetry look easy. Their lines are easily understood and accessible. They don't find it necessary to twist the words or show off their snobbery. They make it look so easy that sometimes we don't really see what they are doing.
And all three poets, along with Wallace Stevens, work in very structured poetic forms, both line and stanza—and rhyme scheme, as we will consider next month.
While I have a great love of Free Verse, especially the challenging poems by e.e.cummings, writers working in poetry make a great mistake in thinking Free Verse is the best method for their writing.
Let me quote Andrew Hamilton in his review of Robert Shaw's "Blank Verse", a review you can find here: https://www.counter-currents.com/2013/08/blank-verse/
"In 'The Problem of Form', poet J.V. Cunningham spoke in 1962 of the exhaustion of modernism: "We have lost the repetitive harmony of the old tradition, and we have not established a new. We have written to vary or violate the old line, for regularity we feel is meaningless and irregularity meaningful. But a generation of poets, acting on the principles and practice of significant variation, have at last nothing to vary from. The last variation is regularity."
When modern poets abandon the structured verse methods and consider themselves edgy and avant-garde by doing so, they forget the very point that Cunningham made in 1962. Modernism has created a curious situation in which breaking the rules is considered establishment and following rules is considered anti-establishment: rebellious.
So, if you want to be one of the avant-garde poets, you need to write structured verse.
Walt Whitman is laughing at the irony.