We're looking at Major Poetic Methods Every Poet Should Know.
Our focus this time is the MMO: the poet's Means, Method, and Opportunity, or kairos, as Aristotle called it.
Shaped Verse
The Old Master: Roger McGough, "40 Love" with the net between them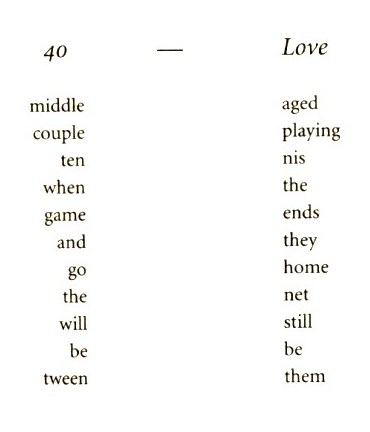 MMO > Means:  lobbing the words back and forth, just as a tennis ball does. Method: the shape of a tennis game. Opportunity: the couple stays together, even though they may bicker, even though they may no longer love each other, they have lost the connection between them.
The barrier is there, like the net on a tennis court invisible to us but relevant to them.
And this invisible net now explains the title, both a reference to the score of a tennis game and the ennui of the middle-aged couple.
A New Master: well, this is an interesting problem. It's hard to find contemporary shaped poetry that doesn't devolve into sentimentality or juvenile wish fulfillment. Let's try the Prose Poem.
Carolyn Forché's "Ancapagari" (found on Poetry Foundation)
In the morning of the tribe this name Ancapagari was given to these mountains. The name, then alive, spread into the world and never returned. Ancapagari: no foot-step ever spoken, no mule deer killed from its foothold, left for dead. Ancapagari opened the stones. Pine roots gripped peak rock with their claws. Water dug into the earth and vanished, boiling up again in another place. The water was bitten by aspen, generations of aspen shot their light colored trunks into space. Ancapagari. At that time, if the whisper was in your mouth, you were lighted.
Now these people are buried. The root-taking, finished. Buried in everything, thousands taken root. The roots swell, nesting. Openings widen for the roots to surface.
They sway within you in steady wind of your breath. You are forever swinging between this being and another, one being and another. There is a word for it crawling in your mouth each night. Speak it.
Ancapagari has circled, returned to these highlands. The yellow pines deathless, the sparrow hawks scull, the waters are going numb. Ancapagari longs to be spoken in each tongue. It is the name of the god who has come from among us.
MMO > Means: four paragraphs. Fragmented sentences alternated with complete ones. Method: It looks like any other prose; however, it reads as poetry, compact ideas with rhetorical repetition and climatic ordering. Opportunity: the resurgence of life once gone yet never departed, the power of the cyclical eternal to influence us when we allow ourselves to open and "speak it".
Simple Form
Old Master: Carl Sandburg's "Bones"
MMO > Means: a dramatic monologue of someone who died at sea. Method: the speaking voice contrasts the mundane grave with the "song of thunder, crash of sea". Opportunity:  if we cannot live an extraordinary life, we can give our bones an extraordinary death.
New Master: Billy Collins' "Introduction to Poetry"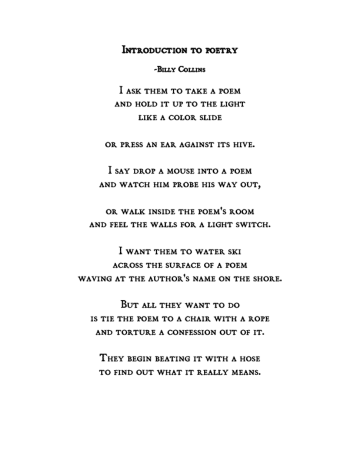 MMO > Means: presenting the reactions a poet wants to hear from the audience. Method: the catalog across stanzas. Check out that list! Opportunity: Collins wants students to enjoy the poem, not analyze it to death.
Literature classes often over-analyze. As Archibald MacLeish says, perhaps the poem "should not mean / But be."
New Master: Charles Simic's "Stone"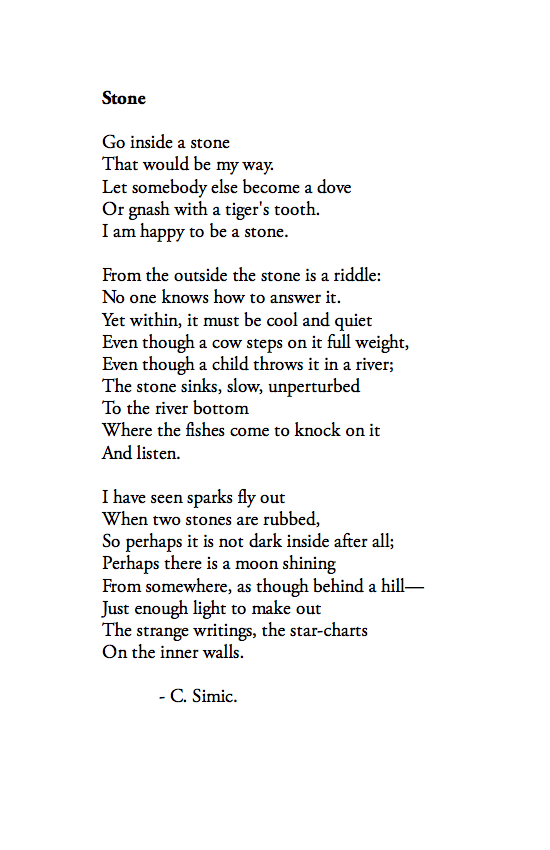 MMO > Means: a simple imagining of the life of a stone. Method: three unrhymed stanzas, repetition, anaphora and other devices. Opportunity:  Like Sandburg's "Bones", this poem is about transformation. Simic, however, imagines the serene existence of the stone only to wonder if it hides a more volatile existence beneath a cold, hard covering ~ as we often encounter with people, the difference between their exterior and interior lives.
Wrapping Up
Coming Next: We look at Blank Verse. Part 2A will introduce considerations with Blank Verse; part 2B will provide more examples.
We're on the 5ths!  Join us.