Free Verse >> Means / Method / Opportunity
Free Verse offers varied options to structure our poems. While free of rhyme and rhythm, free verse by master poets gives us our own MMO.
Once we see the MMO in action, we discover free verse is as highly structured as the pure and blank verse forms.
Let's look at three different version of Free Verse :: Shaped, Catalog, and Classic. When we want our poetry memorable, we learn from the masters.
For each, we will have an example of an Old Master, On the 25th, we'll look at New Masters.
Shaped Verse
The Old Master:  George Herbert's "Easter Wings"
A first practitioner of shaped verse, Herbert did follow a rhyming pattern. He worked in the early 1600s. How's that for age?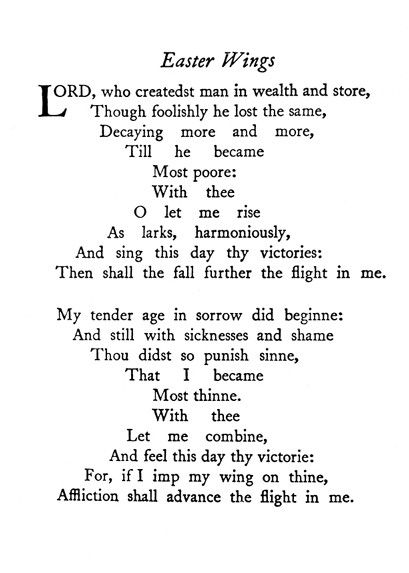 Our souls, in celebration of the Resurrection at Easter, are enabled to fly up to Heaven.
Catalog
The Old Master: Walt Whitman's "Song of Myself 26" (a selected series of lines)
Now I will do nothing but listen,
To accrue what I hear into this song, to let sounds contribute toward it.
I hear bravuras of birds, bustle of growing wheat, gossip of flames, clack of sticks cooking my meals,
I hear the sound I love, the sound of the human voice,
I hear all sounds running together, combined, fused or following,
Sounds of the city and sounds out of the city, sounds of the day and night,
Talkative young ones to those that like them, the loud laugh of work-people at their meals,
The angry base of disjointed friendship, the faint tones of the sick,
The judge with hands tight to the desk, his pallid lips pronoun-cing a death-sentence,
The heave'e'yo of stevedores unlading ships by the wharves, the refrain of the anchor-lifters,
The ring of alarm-bells, the cry of fire, the whirr of swift-streak-ing engines and hose-carts with premonitory tinkles and color'd lights,
The steam-whistle, the solid roll of the train of approaching car. . . .
Classic Form
Sometimes the Classic Form is called Simple Form. Hey, is anything ever simple?
The Old Master:  Stephen Crane's "The Wayfarer"
The wayfarer, 
Perceiving the pathway to truth, 
Was struck with astonishment. 
It was thickly grown with weeds. 
"Ha," he said, 
"I see that none has passed here 
In a long time." 
Later he saw that each weed 
Was a singular knife. 
"Well," he mumbled at last, 
"Doubtless there are other roads." 
Wrapping Up
When we examine these poems, we see interconnections of ideas through the shape, through the catalog, through repetition, and through other rhetorical techniques.
In addition to other techniques, Whitman's catalog uses anaphora and plays with alliteration while Crane writes a narrative. Herrick's poem may rhyme, but the controlling shape lands it firmly in the free verse world.
Join us on the 25th, for the new masters working in free verse.