Defend the Best in order to Live the Best
Wilfred Owens is British.
What? I thought we were looking at poems by Americans for Americans.
Well, no. Any writer who celebrates freedom and living freely would be appropriate for these July blogs on occasional poetry.
Besides, I used Rupert Brooke's "The Soldier" (the first poem for the July 5 blog) as one of the first examples of sacrifices reminding us to live our lives, not just drive.
The Wilfred Owens poem selected for this July 25 blog reminds us of the best of life and living that life.
Owens died in 1918, exactly one week before the signing of the Armistice that ended World War I.
His poetry reflects his years in the war: his rage at the senseless cruelty and devastation of war alongside his compassion for his comrades trapped in the mucky trenches and on the bloody battlefields. Three of his best of these are "Dulce et Decorum Est", "Anthem for Doomed Youth", and "Strange Meeting."
Yet he's more than just a war poet. Other poems revel in nature and life and love.
This poem, a practice in alliteration and  consonance, takes as its title "From My Diary, July 1914".
Leaves
Murmuring by myriads in the shimmering trees.
Lives
Wakening with wonder in the Pyrenees.
Birds
Cheerily chirping in the early day.
Bards
Singing of summer, scything through the hay.
Bees
Shaking the heavy dews from bloom and frond.
Boys
Bursting the surface of the ebony pond.
Flashes
Of swimmers carving the sparkling cold.
Fleshes
Gleaming with wetness to the morning gold.
A mead
Bordered about with warbling waterbrooks.
A maid
Laughing the love-laugh with me; proud of looks.
The heat
Throbbing between the upland and the peak.
Her heart
Quivering with passion to my pressed cheek.
Braiding
Of floating flames across the mountain brow.
Brooding
Of stillness; and a sighing of the bough.
Stirs
Of leaflets in the gloom; soft petal-showers;
Stars
Expanding with the starr-d nocturnal flowers.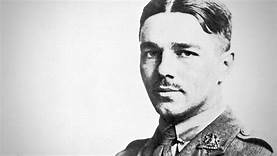 Closing
July closes our three-month focus on Occasional Poems—Mother's and Father's Days, Memorial and Flag Day, and these three July blogs on what we should remember as we celebrate our independence in the mid-summer.
I'm preaching, aren't I? Sorry. Not.
Should you have a question about copyright, please refer to the July 5 blog.
On August 5 we have the promised Rock Allegory, "Hotel California." While you're checking that song out, try a bit of Carmina Burana as well.