It's a series on Advice to Newbie Writers. This is transitioning to the podcast The Write Focus.
Advice to Newbies ~ Live and Learn
Herewith, a continuation of my response to a Newbie Writer's concerns. (See the 9/1 post to read her second email. Names are changed to protect the innocent.) This series began back in July, and I offered that Newbie Writer 7 mistakes along with ways to avoid them. August followed with 3 Newbie Notta Mistakes, because everyone with a little sense goes into something completely new with background research. Since she popped a much longer email to me for more information about Advice to Newbie Writers, my response to that one became the September posts … and those responses are continuing here in October.
She sent a third email, which I posted on October 1 (Remember, names changed!).
On Oct. 5, I presented the six basic steps that every writer follows: Write / Covers / Edit / Format / Publish / Market.
On the 15th, are the basic ideas about Write the Novel.
This post looks at that first step without going into great detail.
If you want great detail about Writing the Novel, you can look at Discovering Your Novel, a 52-week slow-burn through the entire 6-step process, needing only a few minutes each day for those of us with hectic lives and stressful jobs.
If you want more detail about Plotting or Character Development, here are two great resources.
Discovering Characters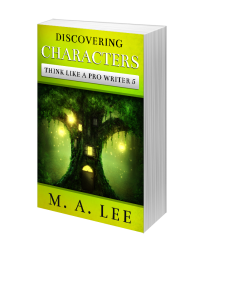 The focus of this post is Step 2 :: Covers, 3 and 4: / Edit / Format.
Covers
Covers are the reader's first impression.
In 2013 and 2014, when I was first launching into my indie writer journey, the independent marketplace for electronic books offered a wide range. It still does, but the lower end of the spectrum is gradually going away.
Excellent covers. Cheaply made covers (all words and no images). Horrible covers. That's the spectrum mark-points.
Whenever you consider the six basic steps (listed above, in bold), you have to juggle what you can do with what you shouldn't do. One of the decision-making processes is WIBBOW: Would I be better off writing? That should drive the first and strongest part of your decision process.
The other considerations are cost and time.
When I launched, I wanted to spend my time on writing, not learning cover design. I still want that focus.
Looking for a cover designer on the internet would surely not be hard, I thought.
Looking wasn't hard.
Finding cover designers wasn't hard.
Finding a cover designer that had a portfolio that fit my own vision as well as one who clearly presented the cover design business as a professional endeavor – extra hard.
Three parts to that one. Did you see them?
Portfolio means that they were generating work over and over again.
My own vision means that we would have few clashes over aesthetic differences.
Professional means … Well, there are more and more horror stories about graphic designers and money down the drain and covers yanked back after they were published and stealing cover designs and not properly licensing images used and on and one. Yikes!
Longer story shorter, I thought finding a cover designer would be easy. Nope. Took 18 months of on and off looking, month after month.
While looking, I managed to write the third book … while holding down a horrible creativity-sucking job … and format the other three books to electronic publishing standards … and even tinker with a few as-yet-unwritten ideas … along with pulling from storage another HistRomSusp but in a different time period. 18 months.
In that time, I also set aside a little bit of money every month to pay for the cover designs of four books.
The cover designer that I found is extremely professional. From the beginning, the designer has used a template that covers all sorts of things about the novel, characters and setting, tone and genre, and more. The designer can do ebooks and paperbacks and social media packages. The company can do book bundles and provides all images in an easy manner.
In emails back and forth, the three project managers (all still working for this small business company) have taught me about branding series and branding for authors and much, much more. Things I never would have considered about graphic design.
PROMO
Branding is something that every writer needs to consider. Branding your book so that it will standout for its genre. Branding for the series of connected books. Branding your writing self.
Everything that I have learned about branding—basically creating your own Marketing Ploys, I put into a book called Discovering Your Author Brand.
I don't teach about cover design, but I offer several ways to understand how to develop your cover design—as well as considerations when you are branding an entire series.
I don't teach about creating your marketing image, but I offer several elements that you might not think of.
Finally, I do teach about how to create a video trailer. People are visual, and people like movement. A video trailer will give readers a moving visual (but not a movie) about your book or your series. Finding places to put your video trailer so readers can find your books—that's the hard part of marketing that I'm still working on.
Best marketing ploy—word of mouth. Increase that, and your books will fly.