Hey! Remember this? We're looking at the various ways that we classify poetry.
First off, all writing is either  Prose or Poetry.  Plays are either one or the other—with Shakespeare, you sometimes get both.
For example, in Romeo and Juliet, Shakespeare distinguishes between prose and poetry and between Blank Verse and Pure Verse.
Prose: any lines that are just plan fun are usually written as prose, such as the servants' conversation at the very beginning.
Poetry: All other lines follow poetry, with a standard meter (Yss, a few lines are exceptions. Cast back to the Symbolic Numbers blog and consider why a line about Death would have 11 syllables?)
Blank Verse: Lines that discuss the feud between the families.
Pure Verse: any lines that advance the love story are written as poetry.
R&J is about the only Shakespeare play that is so tightly written to follow this rule. The classic procrastinator's play Hamlet is not one of his better written works, and the structure of the lines is all over the place.
This is all digression, however, to remind you of what we're doing.
And we're focusing on the New Masters of Free Verse.
On the 15th, we looked at Old Masters of the three forms of Free Verse.
Today, the 25th, we look at New Masters of those three forms.
Shaped
The New Master: Lawrence Ferlinghetti's "Constantly Risking Absurdity"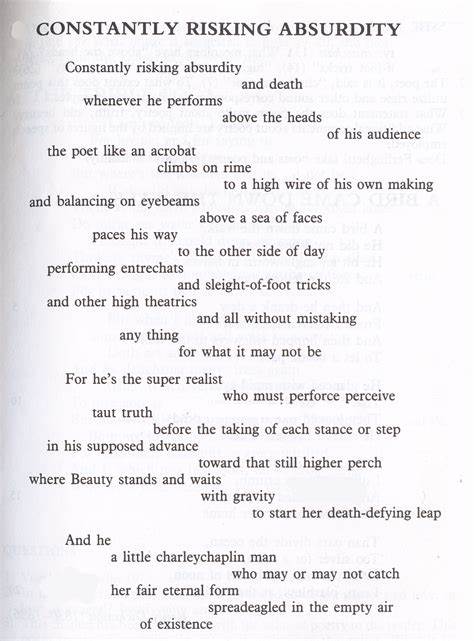 Ferlinghetti reminds us that poets are performers, risking their public acceptance just as a trapeze artist does. Both work without a safety net.
Ferlinghetti's structure mimics the acrobatic performance as the words walk back and forth across the taut lines of verse.
Catalog
The New Master: Gwendolyn Brooks' "The Pool Players"
Brooks plays with unusual rhyming, but the tight control of her lines lands this poem firmly in the free verse world. She adds in alliteration to keep everything tightly controlled.
Classic Form
The New Master: Arcelis Girmay's "Elegy"
What to do with this knowledge 
that our living is not guaranteed?
Perhaps one day you touch the young branch 
of something beautiful. & it grows & grows 
despite your birthdays & the death certificate, 
& it one day shades the heads of something beautiful 
or makes itself useful to the nest. Walk out 
of your house, then, believing in this. 
Nothing else matters.
All above us is the touching 
of strangers & parrots, 
some of them human, 
some of them not human.
Listen to me. I am telling you
a true thing. This is the only kingdom.
The kingdom of touching;
the touches of the disappearing, things.
Notice how Girmay uses the ampersand, that looping connecter, which stresses that this poem is about connections. She plays with the idea of the catalog, but doesn't carry it through–that would become too jerky and abrupt for her concept of smoothly curving connections.
Aracelis Girmay, "Elegy" from Kingdom Animalia. Copyright © 2011 by Aracelis Girmay. From Poetry Foundation: https://www.poetryfoundation.org/poems/56716/elegy-56d2397a11e87
Coming UP
November begins with a third look at free verse before launching into Blank Verse.
Join us.