It's a series on Advice to Newbie Writers. This will last a while. Enjoy.
Newbie Notta Mistake #1 ~ First Impressions Matter
Unless you truly understand the minutiae of graphic design (direction of eyes, color contrasting, proportional sizing, foreground against background), then hire a cover designer.
The cover is the first thing that attracts a reader. You have nanoseconds to snare readers; a great cover will draw readers to your book.
Great cover designers understand the needs of genre as well as branding for the book, the author, and the series.
Took me 18 months to find a cover designer that matched my aesthetic and that showed promise of staying as a professional business—rather than starting up then closing down in three to five years.
I started my search in 2013. I found and then contracted with my cover designer for the first cover in 2015. Since then they have created over 10 NF covers, 14 mystery covers, and 9 fantasy covers plus covers for bundles—and I remain in awe of them.
Pay the bucks.
Want to do it yourself? Then pay the bucks for a quality program, like InDesign > not Canva or Powerpoint.
And seriously look at your competing covers. Do your research. Admit the ones that look crappy, and admit what your skill level is.
Finally, use the greatest writer test in the world > WIBBOW … Would I Be Better Off Writing? That's your question, every time you start to take on additional writer jobs.
Cover Design: Yes or No? WIBBOW.
PROMO
Sometimes we can reach the best answer to the WIBBOW question by tracking our own productivity and planning ahead.
I struggled for years trying to use basic calendars and planners for daily productivity and project planning. A writer's need for tracking and planning are totally different from other professional fields.
A calendar let me look to the next week, the next month, the next season—and all calendars do that very well. Problem, though, is that I had to create a space in the calendar to track my daily productivity.
Daily productivity inspires more daily productivity. When disruptions and distractions occur, the calendar reminds us to get back on track.
Finding a project planner was more difficulty. I mean, we have so many parts to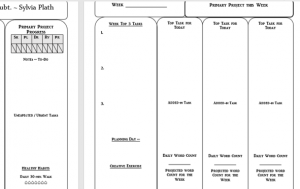 novel writing.
Original idea exploration
Sketching ideas into the first story arc
Drafting
Revising
Proofing Plus (which includes contracting with a cover designer and writing your sales copy [blurb, taglines])
Publishing and Promotions
I did think a construction project planner might work—but nyah.
So—you knew there would be one, didn't you?
A couple of years ago I sat down and created the planner that I wanted.
You can read about the planner here—as well as see interior images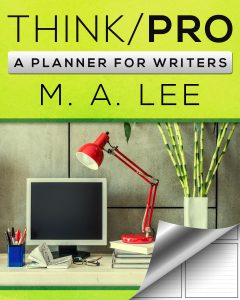 .  https://writersinkbooks.com/celebration-2-for-june/
And you can find it here.  https://www.amazon.com/Think-Pro-Planner-M-Lee/dp/1983248673/
I always promote the "guiding lamp" cover, but I also created a floral cover. (That, however, is no longer up in the store.)
Enjoy.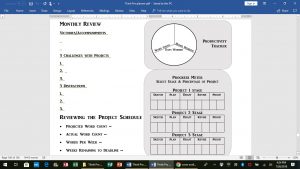 Here is the Productivity Tracker.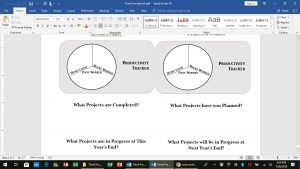 This is the Yearly Review/Preview.
Next up on the 15th: Newbie Notta Mistake #2.
~ M.A. Lee