Want to stay three steps ahead of the other newbie writers starting on the epic journey into writerly wonderland?
Read Newbie Notta Mistakes #3, #2, and #1.
#3 is below!
Newbie Notta Mistake #3 ::

Learn As You Live
It's a series on Advice to Newbie Writers. This will last a while. Enjoy.
Keep learning and practicing your craft. Even after 30 years of teaching literature (high school and college), even with advanced degrees in English and composition, even after over five years of pursuing self-publishing, even after over 25 published books—I am still learning.
New information keeps me fresh.
Practicing that new information >> that stretches my skills and builds improvement.
Also, no one will ever know everything there is to know about writing. But we can try.
I have three courses to take this year: two on the craft of writing, one on marketing. I am learning a lot.
I'm still trying—just like a doctor practicing medicine. The only difference is—I might speak with authority, but I will freely admit that I have more to learn.
Think a doc will say that?
Promotion ~ Groan.
Well, if you don't want to take a course (which can be $150.00 to $300.00), you can spend a lot less by reading books about the craft of writing and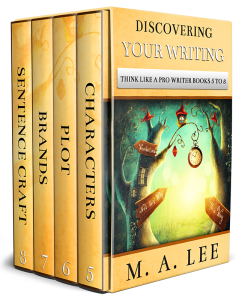 marketing.
So (you did know there would be a So, didn't you?) >> In 2019, I wrote the Discovering Set for Writers. Check them out at the link to the online distributor:
<< That's it!
Discovering Your Novel  https://www.amazon.com/dp/B07PYYM2LG
Discovering Characters https://www.amazon.com/dp/B07Y7LYK19
Discovering Your Plot  https://www.amazon.com/gp/product/B0838PTN49/
Discovering Your Author Brand https://www.amazon.com/dp/B07YL8GBM1
Discovering Sentence Craft https://www.amazon.com/dp/B07ZQXKY87
Then, as if I didn't have enough to do, I bundled characters / plot / author brand / sentence craft together as Discovering Your Writing (you can save money by buying the bundle). Here's a trailer and the buy link.
https://www.amazon.com/dp/B08691892S
These five books (four in a bundle) are a full education in the craft of story telling and starting promotions for your books.
GINORMOUS BOOK … so right now it's only available in electronic form `cause … well, at the start of this year, when I would have scheduled with the cover designer, people talked about a paper shortage.
Anyway~ Enjoy.
Next Up
Hark back to the July 1 blog, and you'll see that questions from a newbie writer inspired this whole blog series.
On September 1, we'll share the second email that she sent (names changed to protect the innocent, of course).
All through September and October and maybe into November, we'll share our answers to her second round of questions. On the 5ths, of course (5 / 15 / 25 ~ only July was odd.).
~ M.A. Lee