It's Black Saturday, the vigil before Easter's Resurrection.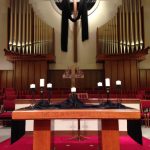 The key to this Saturday? The church is bare, the altar blackened, all hope entombed with Christ.
After the Crucifixion, the black veil is removed from the altar cross, for Christ is brought down from the 300-pound cross that the Sanhedrin and the Romans intended to be His failure.
They didn't know the key, though.
The Crucifixion and the Tomb are the beginning of His triumph.
Christ holds three keys: the key to Heaven (Matthew 16:19) and the keys to Hell and Death (Revelation 1:18). On Black Saturday, Christ descended into Hell in what is often called "Harrowing of Hell".
These three keys were going to be my topic.
After all, Christ's descent into Hell for the Harrowing is often removed from modern versions of the Apostle's Creed.
That little phrase "He descended into Hell" belongs there, right before "He ascended into Heaven and sits at the right hand of God the Father Almighty, from whence He shall come to judge the Quick and the Dead."
And that's a scary painting. Here's Michelangelo's "Final Judgment" of Christ, separating those on the Heavenly path from those who will descend eternally to Hell.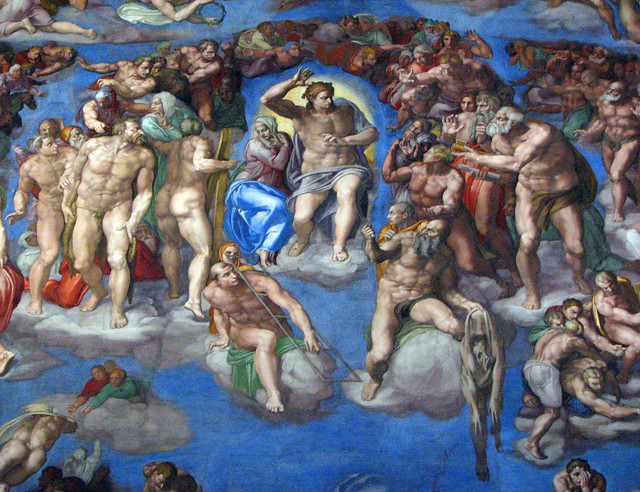 But at last evening's Good Friday service, I heard something I have never heard before.
I want to share it.
The Story of God
This is ten minutes. A very important ten minutes.
Listen to this. It is the key to this entire week and the celebration of all next week, the Bright Week shining with Christ's Resurrection and great gift to us.
Go. Share the story. Tell everyone of God's great love for us. After all He does for us, we reject Him in countless ways that we don't even notice.
But here's the Key: he will never leave us nor forsake us. (from Hebrews 13:5)
Christ holds the Keys: of Hell, of Death, and to Heaven. Christ offered freely: "Not my will but thine be done." (Luke 22:42) How often I wish to say that but my foolish earthly pride chains me?