What more do we need to do for God?
I think most of us live a minimalist lifestyle with God. He's in a neat little corner, tucked away, with a bit of brightness, brought out only when we need him.
There He is, over there. See Him? He's for Sunday.
No.  No, no, no.  He's for every day.
Because we can never predict when we will need Him. Because the truth is, we need Him every day.
Holy Tuesday
Handy Wikipedia tells me that most churches which celebrate Easter—.
I'm stopping, right here.  Most churches.  Most! Why not ALL of them?  Why are some churches neglecting this most important series of days in the life of the church?  In the life of Christ?  In THEIR lives?
Most churches that celebrate the Holy Week before Easter present Christ's predictions about His death and resurrection.
Is it not important that Christ knows that His sacrifice is quickly approaching?  It should be. His sacrifice elevates us to Heaven.
More Lent on Holy Tuesday
Lent, the 40 days leading up to Easter, is a time of prayer and fasting as we focus upon Christ's life. His words, His teachings, His miracles, His choices: never forget that everything Christ did for us is a choice.
He chose to come to Earth. He chose to live a life that we can try to follow. He chose to sacrifice Himself for us. He chose to welcome us to His kingdom of Heaven.
In our Lenten prayers and fastings, we are supposed to sacrifice. Food, items, time, thoughts, deeds, all of these should lead us to God.
We give up chocolate and think that it's the same as the stripes on His back.
We give up time by attending a couple of services and think it's the same as His crown of thorns.
Or we restrict our thoughts during Lent: I won't gossip or gripe.
Or we donate an item of clothing for every day of Lent.
Good for us. But what we do is nothing when compared to what Christ did for us.
More Holy
We cannot predict what tomorrow holds. We cannot even predict what the next minute holds.
We can trust. We live on that trust.
Christ knew what would happen to him. He knew His betrayer. He knew His denier. He knew each soul that spoke against him, each mind that turned him over to Pontius Pilate. He stood before the crowd that shouted for Barabbas, and He knew how each one had previously viewed Him when he rode into Jerusalem on Palm Sunday.
He knew and remained holy, for He is the embodiment of holy.
Our poor efforts do not measure up when matched to Him.
What more can we do to be more holy?
We can love. For loving causes more love. An unending cup, much like the widow's pot of oil
"With the door shut the widow took her own pot of oil and started to fill the empty pots, and as she measured out the oil it miraculously multiplied, as did the water turned to wine (John 2:1-12). When all the borrowed vessels were filled, the excited yet grateful widow said to her eldest son, "Bring me yet a vessel," but sorrowfully he replied, "There is not a vessel more." Then comes the suggestive phrase, And the oil stayed. God never allows His provision to run to waste."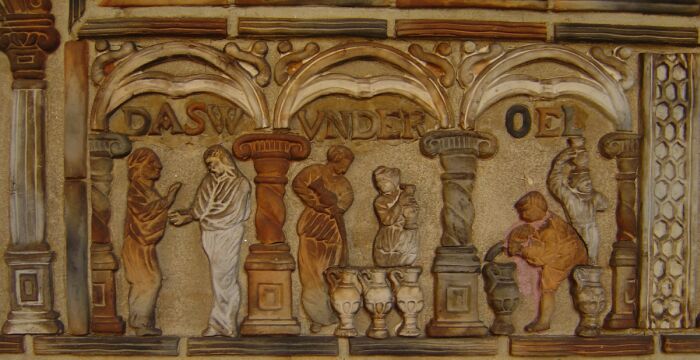 More and More
When we open our lives to God, He provides, more and more, an unending cup. When we sacrifice to Him, he still provides, more and more.
Sacrificing to God is not an emptying of ourselves, but a filling where we are empty. He gives us, more and more.
And the best thing that He gives is Love.