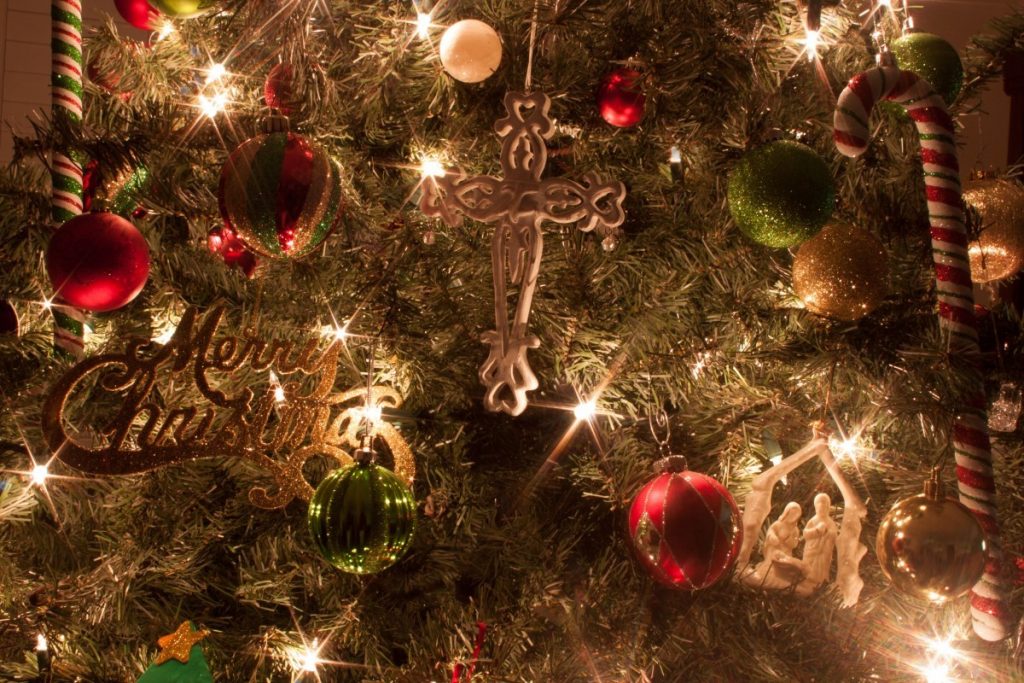 There. Do you see it? The little cross hiding among the boughs of the Christmas tree. Without sparkling glitter. Barely visible with all the abundance of other Christmas gaiety.
In the crowded holidays, dashing between Thanksgiving and Christmas parties, does the real Christmas hide among the sparkling glittery abundance? Do we forget the great festival of the season is not giving gifts but receiving the greatest gift to us all?
What is Advent?
Advent, which means "coming" in Latin, is the four celebratory Sundays that precede Christmas Day. On these Sundays and all the days before Christmas, we anticipate the coming of the Christ child, the harbinger of salvation for all. This season is the beginning of the church year.
In all of the worldwide churches that observe Advent, the first candle of the wreath was lit, the candle representing hope. As we anticipate the birth, we prepare our minds and hearts for the great feast of Christmas. This first candle, like the second and fourth, is purple, the color that represents Christ's heavenly blue connection blended with the red of his earthly sacrifice. Blue candles may replace the purple ones, for blue symbolizes hope, the theme of today.
Whether we light the first candle in our Advent wreath or open 25 little doors in an Advent calendar, this first Sunday looks with hope to the birth of Christ, as this 12th century song of first Advent tells us:
O Come, O Come, Emmanuel, / And ransom captive Israel / That mourns in lonely exile here / Until the son of God appear.
Rejoice! Rejoice! Emmanuel / Shall come to thee, O Israel.
Reading for the First Sunday of Advent ~ Isaiah 9:2 and 6-7 (Amplified)
2 The people who walked in the darkness have seen a great light; those who dwelt in the land of intense darkness and the shadow of death, upon them has the light shined.
6 For to us a Child is born, a Son is given; and the government shall be upon His shoulders, and His name shall be called Wonderful Counselor, Mighty God, Everlasting Father, the Prince of Peace.
7 Of the increase of His government and of peace there shall be no end, upon the throne of David and over his kingdom, to uphold it with justice and with righteousness from the latter time forth, even forevermore. The zeal of the Lord of Hosts will perform this.