What is a Chrismon?
That was my question, the first time I heard the word Chrismon. I've seen Christmas trees in churches and admired the ones decorated with Christian ornaments, but I never knew the tree and its ornaments had a special name.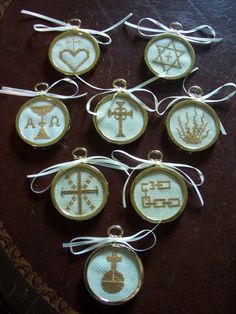 The denomination of my formative Christian years didn't celebrate the church year. We had Easter and Christmas, but those two Sundays were the only ones devoted to special events of the church: Sunrise Service and Gift-Giving for the Poor. All the other Sundays were a ceaseless progression of one sermon to the next.
Gradually, I encountered elements of the church year. Lent was mentioned because my high school French class celebrated Mardi Gras. All Hallow's Eve was followed by All Hallow's Day on an almanac calendar. Epiphany and Pentecost were Christian words; while I knew them, I didn't understand their importance.
The Chrismon is another new encounter for me. Even people who belong to denominations that follow the church year may know the word but not its origin.
A Chrismon is a symbol associated with Christ or with his ministry: angel, star, fish, dove descending, shepherd's crook, chalice, and others. These ornaments, typically of white and gold, along with clear lights decorate the evergreen tree placed in a church. Like the Advent wreath, the Chrismon tree offers an opportunity to focus on all that Christ has done for us. The idea of the Chrismon tree began in the late 1950s and spread to other denominations, all as part of the "hanging of the greens" to decorate for the Christmas season.
The Chrismon symbols tell snippets of events of Christ. Our symbol for today, the first day, is the Bible, which is the source of those events, the voice of God to us, our guidebook for the revelation of Christ and our connection to him.